Leading Innovations in Sustainable Urban Drainage
SUDS Compliant, BREEAM Accredited

Unique system of resin bound aggregate over recycled car tyres

Provides up to 9 BREEAM Credits

Totally porous, No delamination, Low maintenance

Unrivalled porosity, Up to 50,000 Ltrs per m2 Per Hr

Full 360 degree attenuation

BRE tested

Choice of colours and finishes
"We Are Now Offering A 10 Year Continuous Porosity Guarantee"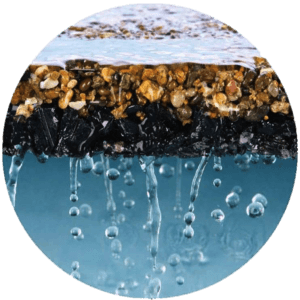 What is Sudstech porous paving?
---
Sudstech porous paving is an eco friendly SUDS-compliant (Sustainable Urban Drainage Systems) water management solution developed for both the commercial and public sector. Unlike other resin bound products the Sudstech system utilises a recycled car tyre sub base eliminating delamination and clogging, ensuring unrivalled porosity of 50,000 ltrs per m2 per hour.
The Sudstech system has been developed over the past 5 years and has been rigorously tested at the British Research Establishment for both impact and freeze thaw. The use of a Sudstech surfacing in conjunction with a permeable sub-base based SUDS system could achieve up to 9 additional BREEAM (2011) credits.
All of our finishes are made from natural stone sourced in the UK. We use varying grades of angular aggregate to maximise the strength and durability of our surfaces. Selected finishes can be modified to fit additional specifications such as colour variation and weight loading capacity.
Sudstech is available in a choice of finishes
Why choose Sudstech??
Porous resin bound surfacing is traditionally laid onto a base of concrete or tarmac which can develop faults over time such as delamination, clogging and weed growth. The Sudstech system prevents these issues by using a recycled rubber sub base. Small fines that support weed growth usually build up over time affecting porosity, however, due to the slight flexibility in our rubber sub base fines are agitated through the product when trafficked by vehicle or foot, never being allowed to settle in any one area.
Traditional porous paving that utilises either concrete or tarmac bases can be subject to delamination. Delamination is the process of water freezing inbetween a permeable and impermeable surface causing the two layers to split. The Sudstech system's rubber sub base accommodates for expansion and contraction allowing water to freeze and thaw within its voids eliminating delamination.
The Sudstech system has been rigorously tested and researched by various leading universities, environmental groups and research establishments.
Sudstech – Typical ground work specification

---
20mm – Wearing top course (resin bound aggregate)
30mm – Flexible sub base (resin bound recycled tyre and stone)
200mm – Prepared base (type 3 aggregate)
Legislation
SUDS (Sustainable Urban Drainage solution) is new legislation brought into action alongside the Water Management Act 2010. SUDS is a legal requirement in planning to prevent surface water run off and the severe environmental impacts it causes.
Recycling
In addition to SUDS compliance Sudstech's rubber sub base safely utilises 3 car tyres on average for every square metre laid, reducing environmental impact by exploiting otherwise unusable and potentially harmful materials.
Environment
Rapid water run off from hard paving has severe environmental impacts. These include downstream flooding, the transfer of pollutants into watercourses and depletion of ground water levels.
Solution
Sudstech's unique solution overcomes these problems by allowing drainage infiltration on site. This is the preferred water dispersal option of the Environment Agency and the focus of the SUDS legislation.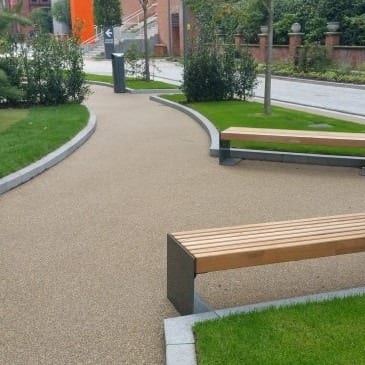 Exchange Quay (Salford Quays)
This large Sudstech installation was specified by Plan-it Architectural design consultants. Plan-it's design called for an attractive and SUDS compliment porous surface to cover approximately 2000m2 of pathways and communal areas featured in and around Exchange Quays central podium. The resulting installation offers a unique solution to urban drainage and completely eliminates the areas previous issues with standing water, trip and slip hazards.
Exchange Quay is one of the latest developments alongside The Lowery theatre and Media city to be included in the regeneration of Salford Quays. Previously the site of Manchester Docks, Salford Quays became one of the first and largest urban regeneration projects in the United Kingdom following the closure of the dockyards in 1982. The regeneration has since been praised for it's success in bringing over £300 million of business into the area as well as thousands of jobs.
Gate Way to Manchester (Manchester Oxford Road)
Manchester's Oxford road is undergoing a large scale redevelopment throughout 2016.
The proposals include over 4k of major bus priority lanes and Greater Manchester's first ever 'Dutch-style' cycle lanes which will see people on two wheels segregated from the traffic. The scheme has been revamped following a major public consultation with nearly 900 residents.
Sudstech have already provided approximately 1500m2 of sustainable porous paving in pedestrian areas to aid congestion along the road from the 70'000 plus students that make the area their home every year. Due to the heavy amount of  foot traffic Manchester city council specified that the material needed to be extremely hard wearing, non slip and completely SUDS compliment.
Due to the versatile nature of the Sudstech product Manchester city council have also specified that the product be used for hundreds of innovative new tree pits included in the scheme.
Langford Direct Ltd
Piccadilly House, 49 Piccadilly Gardens, Manchester, M1 2AP 0161 212 1617